TruePath for Android
Get a map-matched location whether you are driving in your neighborhood with clear view of the sky, or in a big city with tall buildings where your GPS signal is severely degraded!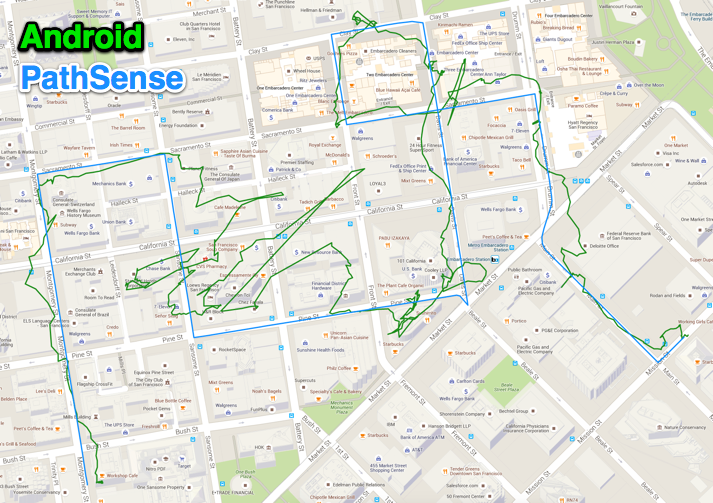 TL;DR - If your users try to use your app while driving, especially in the urban canyon - aka in big cities with tall buildings - they're going off the road! TruePath has fixed that! - download the SDK here.
We provide a map-matched location provider in Android!
No more squiggly lines from Android location updates as your users drive. We map-match to keep the location updates on the road, even in an urban canyon (areas with poor or interrupted GPS signals like in downtown areas with tall buildings).
Our Android TruePath solution fixes this problem using our proprietary sensor fusion technology - sign up for the PathSense Android TruePath SDK here right now.
Who are you guys?
We're PathSense, and we're building a better location stack for Android and Android. On the way to our broad release we selected a handful of critical issues to fix FIRST - like improving Android Geofencing, making Android Activity fast, and now releasing a solution for the Android urban canyon.
Frequently Asked Questions
WHAT VERSIONS OF Android DOES YOUR SDK SUPPORT?

Android 9 (Gingerbread) and above.

What regions does this work in?

TruePath works world wide.

How much does this cost?

It's free to use.

What permissions do I need to give you?

A lot less than Google wants ACCESS_COARSE_LOCATION, ACCESS_FINE_LOCATION, ACCESS_NETWORK_STATE, ACCESS_WIFI_STATE, INTERNET, RECEIVE_BOOT_COMPLETED, WAKE_LOCK, & WRITE_EXTERNAL_STORAGE.

What magic does this use?

Map-matching, sensor fusion, rigorous testing. We process and annotate map data from various sources! Gallons of caffeine and countless development hours.

Who are you guys?

We're a startup backed by Data Collective, Keshif Ventures, and Vertical Ventures. We are working to provide developers with everything they need to build amazing location enabled apps by improving the ios and Android location stacks.

Where can I download the SDK for Android?

You can download it right now by clicking here.